Kerone
How To Take Care Of Braids
How To Take Care Of Braids
Hairstyles make women look more gorgeous and more beautiful. The way in which they are styled calls attention to their faces. The more stylish the hairstyle on a woman's head is the more admiring glances the woman would get from people who see her.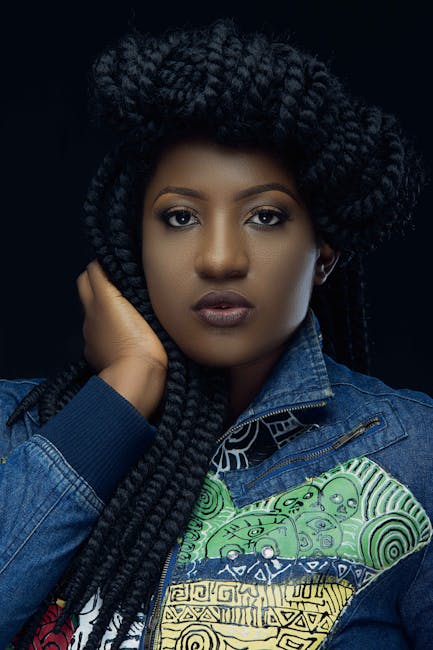 There are so many different women hairstyles. Some of them including their
ponytail
,
bangs
,
layers
,
highlights
,
crew cut
,
cornrows
,
Goth
,
braided
,
Bob
and so on. Some hairstyles are perfect for some women and some are not so perfect. It depends on the woman to find the perfect hairstyle. One type of hairstyle that seems to fit, arguably every woman is braided. There is something about braided hair. A lot of people think it is a hairstyle meant for little girls alone. Braids make little girls look adorable and cute. Imagine how it will make older women look like. Gorgeous!
Photo Credit: Pinterest Like with other hairstyles, worn have the chance to pick the braids that match their characters, flairs, and personalities. The hairstyle is also great for many colorful events like wedding parties and other parties where you can add flowers or other kinds of decorations on the hair to further enhance your beauty. When you add these decorations, you have the chance to go all creative and have fun at the same time. If you are the kind who has female kids, don't be surprised if your kids demand to have the same type of hairstyle. You may not be aware but the braid hairstyle has existed for a very long time, about 5000 years ago and it is favored by people of different races and languages all over the world. It is particularly common among women of African origin.
What's more? The hairstyle of braids actually has a lot of benefits.
1. Beautiful
This goes without saying. Braids make a woman look more beautiful than she was before. That is why so many women go for it. Apart from looking beautiful, they also look radiant and when they smile, they look like angels. The braids hairstyle is a special type of hairstyle.
2. Saves money
Braids also save money if you decide not to visit a hair stylist. You can call on your friends or a family member to do it for you. Although braiding takes a lot of time and can be better done by someone who is patient, it can be done at home. That way, you save money which you can use for other things.
3. Variety
There are several varieties of braids that you can like from depending on their textures and you can't also do any style you wish.
4. Protection
Braids also provide protection through the prevention of split ends. Split ends refer to damaged hair and it is a phenomenon that no one really wants to see. However, braids help to protect the hair in that aspect.
5. Long lasting
When talking about hairstyles that can last up to two months and still remain nice, a braiding hairstyle is at the top of that list. You even have the chance to keep it looking fresh every single day.Like everything else in the world, even braids have some attributes that may not look so rosy despite their wonderful attributes. For example, as mentioned earlier, braids can be challenging to make and it requires patience. Also, if you are the type who wishes to visit a stylist instead of having s friend do the braids for you, know that it would be pricey already but that depends on the length of the braids and the type of establishment when you are having the hair done.
Photo Credit: pinterest Although braids can last for a very long time, just like it takes a lot of time to make, it also takes a lot of time to remove. It can take a lot of hours if you want to remove it. All you have to do is make sure that you have enough time and are not in a rush.
How to take care of the braids
To prevent hair damage and in order to keep looking beautiful, there are some steps that must be taken in order to maintain the braids on the head. One of the ways is making sure that you do not pull too much on the braids in order to prevent split ends and breakage.Also, braids can last up to two months, but after the two months, make sure you remove them. You can change it to another style if you want. Use a moisturizer to keep the braids looking fresher and nice. Examples of natural moisturizer include Shea butter, Yoghurt hair mask, Pumpkin and honey, and so on. You should also strive to provide for the protection of the hair especially at night when you are mostly asleep, like wearing a scarf or a nightcap. Remember also that there are natural and unnatural oils and you should try to make sure that you don't use derived oils. Natural oils include castor oil, pumpkin seed oil, and olive oil. Unnatural oil includes petroleum jelly. The use of unnatural oil could clog the hair follicles and may not penetrate the hair shaft to serve a beneficial purpose.