Kerone
Massage Your Scalp Properly to Promote Hair Growth
Massage Your Scalp Properly to Promote Hair Growth
By
Andrea M. Lamp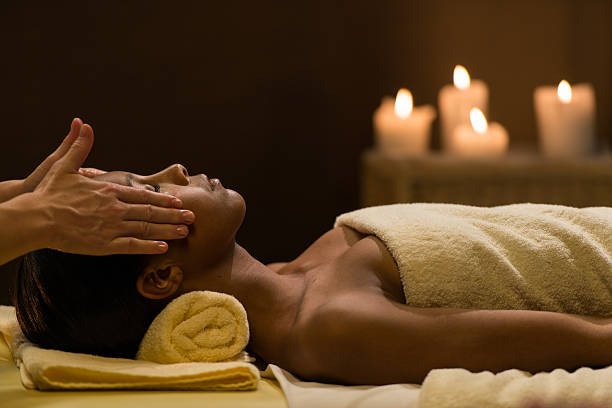 Photo Credit: Getty Images Massages have been an essential part of human health and history. Ayurvedic medicine believes that a massage once a week helps to maintain the balance of vital chakras for a strong, soft and shiny hair.  In ancient history wedding rituals, the bride and the groom are massaged by means of special oils, because it is believed that head massages can further promote improved health and
beauty
, and even stimulate fertility. Massages help you relax, relieve stress and in the case of head (scalp) massages, not only does it feel good it is also believed to
help with hair growth
.  Scalp massage has a fruitful history. Cultures such as the East Indian culture have been practicing scalp massage for hundreds of years. It can be referred to as Champissage or Indian Head Massage.  Indian Head massage covers not only the head (scalp) but also the neck, shoulders and face.It is believed that the scalp is one of the most essential parts of one's body, and it is treated and pampered the same way as other parts that needed to be continuously stimulated. Most Indian made it a habit to massage the hair and scalp with nourishing
essential oils
, resulting in long voluminous hair, and shiny, luscious locks admired in Indian society. The evolution of head massages has come a long way, and it is not necessarily a female practice Over the years, it has been included into services and treatments offered to men by local barbershops and masseurs. A
massage

of

scalp

and facial hair
, completes the cycle of service, providing the feeling of satisfaction even to the most arid customers. Head and hair massage has turned out to be very effective that it its benefits has been studied and researched in different fields of science and mysticism – from medicine, to cosmic anthropology. It is enjoyed by people of all ages and walks of life and practiced in a number of different settings and environment, including private homes, wellness centers and beauty salons. The massage has also been adapted so that it can be performed without oil, therefore clients do not need to disrobe and so the working day is not interrupted for long. Therefore it can be said that head massage have established to be one of the most convenient treatment to help reduce tension, ease anxiety,
promote positive health
and well-being. Head massages can be done anytime and anywhere.   You just have to sit up straight; making yourself comfortable and start massaging your neck, shoulders and more importantly, your scalp.   This will reduce stress and increase the blood flow to stimulate the scalp, therefore, strengthening your hair.   Learn the art of scalp massage through these relaxing and easy steps;  
5 Steps for a Scalp Massage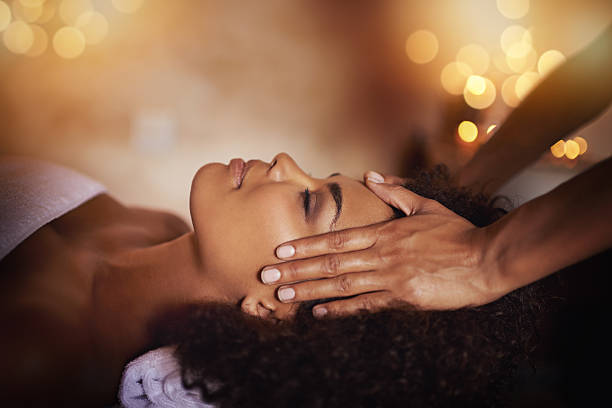 Photo Credit: Getty Images
1)
The best time to do the scalp massage is right before you take a bath or right before a shampoo and conditioner.  It does not relax your scalp but it also increase the blood circulation, thus, making your scalp absorb the nutrients from the
scalp therapy shampoo
and
best hair growth conditioner
that you will be using.
2)
Find a comfortable position.  Either sitting down or standing up; if you are sitting down, sit up with your back straight or your shoulders relaxed. If you prefer standing up, stand straight with your arms resting on the side.
3)
Loosen up.  You must not feel any tension to your neck and shoulders. Stretch it up a little bit.  Remember that this supports your head.
4)
Let your hair down. Hair doesn't have to be completely loose; it just needs to be free from pins, headbands, ponytails and accessories.  If you prefer to massage your scalp with your braided hair see to it that you will be able to reach the scalp as much as you can.
5)
Divide your scalp.  Left and Right with 3 quadrants respectively. Starting from the forehead all the way to the nape. (1) Left and Right Forehead (2) Left and Right Temporal area (3) Left and Right Occiput This doesn't have to be physically precise; Utilize your imagination in diving your scalp into their sections. Work on one area at a time on either side.Massage.  Place a
small amount of oil
(if you're using it) between your palms and rub all over your hands. Using either your index finger or your middle finger (fingertips only, keep your nails out of it), begin at your forehead with your thumbs pressing above your ear.  Move your fingertips in small circular motions. Don't press too hard, but keep your pressure firm. Work your way above your head up to your occiput.  Remember to cover all the sections, always using your fingertips for massaging.  Remember, this is a
scalp massage
, so keep your fingers on your scalp.  Your hair might end up tangled if you begin to massage your hair. Take your time; don't be in a hurry.  Feel the pressure of your fingers in the sections of your head.  The best way to do the massage during your free time and if you are completely devoted If you're in a rush, it's best to wait until you have ample time to devote to this; otherwise, you probably won't enjoy it as much because you'll be too fixated with the time. Enjoy.  Your hair is a part of your body; if you feel relaxed, your hair feels it to!  Complete process should last for about 5-10 minutes. Consistency.  Making it a habit that you can look forward