Kerone
13 Best Hair Oils For Natural Hair
There are many oils out there used to moisturize hair. However, I narrowed the 13 best hair oils for natural hair. Most people are not aware there are two different kinds of oils. One is carrier oils and the other is essential oils. They are completely different in structures and purpose.  Essential oils are known as volatile oils that can evaporate quickly, depending on the thickness of the oil. They are commonly used in aromatherapy. Essential oils are highly concentrated and is recommended to be diluted well. They are potent and can potentially harm your skin or hair if used alone.
Essential oils are derived from specialized glands of called Glandular Trichomes, that most plants produce. This can serve as nutrients for plants; for other plants this can help to secrete pheromones that can attract insects or deter insects or animals, such as to aid in reproduction.
Read further on List of Essential Oils
When selecting oils decide how the oil is manufactured to keep most or all its vital properties.
1.
Virgin/Pure
: The oil was derived by mechanical processes, without industrial refinement or chemical additives or preservatives. 2.
Cold Pressed
: No heat was used on the seeds, nuts, or kernels to produce the oils. Cold pressed oils best retain their nutrients, vitamins, and fatty acids. Heat on the other hand disrupts and reduce their essential properties. 3.
Organic
: No additive, no fertilizer, no herbicides, not pesticides were used on the plants, nuts, or seeds for cultivation. These elements are soluble in greasy substances, they end up in the raw product as unrefined/cold pressed. Only industrial refinement can then eliminate the impurities this will affect the true essence of its benefits. Carrier oil, also known as
base oil
or
vegetable oil,
is used to dilute essential oils and absolutes before they are applied to the skin in massage and aromatherapy. They are so named because they carry the essential oil onto the skin. Diluting essential oils is a critical safety practice when using essential oils. Oils alone are volatile because they begin to dissipate as soon as they are applied. The rate of dispersion will vary based on how light or heavy the carrier oil is. Carrier oils do not contain a concentrated aroma, unlike essential oils, though some, such as olive, have a mild distinctive smell. Neither do they evaporate like essential oils, which are more volatile. The carrier oils used should be as natural and unadulterated as possible. Many people feel organic oils are of higher quality. Cold-pressing and maceration are the two main methods of producing carrier oils. Read more: 
wikipedia
Check Out the List of 12 best hair oils for natural hair below
1) Apricot oil
Apricot Oil is pressed from kernels. It has an increase of oleic and linoleic fatty acids, know as omega-9. It has vitamins A, C, and E. Its beneficial as it moisturize the hair leaving is soft. It also provides sheen, nutrients to dry, brittle, damaged hair.
2) Grape seed oil
Grape seed oil is a light oil than coconut oil. It won't make hair feel greasy. It moisturize and conditions the hair. It can help with dandruff.  It has vitamin E, and antioxidant, lineolic acid, and fatty acid to promotes hair growth. It helps to strengthen dry and damaged hair, while at the same time provide shine.
3) Avocado oil
Avocado oil moisturize dry, brittle, and damaged hair. It is a light oil that easily absorbs into the hair and scalp. It has vitamins A, B, D, E, protein, amino acids, iron, copper, magnesium, and folic acid to promote hair growth and alleviate dry itchy scalp Avocado oil is a natural humectant that helps to trap in moisture. It is a great SPF to combat against sun's UV rays. The oil is perfect for deep conditioning, pre-poo treatment, hot oil treatment, and used as a sealant. The oil will give hair a nice shine.
4) Olive oil
Olive oil is popular in its use to hair.  It has fatty acids, minerals, and vitamin E. It also has antioxidants. This oil can help with dandruff, dry and itchy scalp, and promote growth. It's great for those who may have sensitive hair and scalp. It softens, penetrates the hair, Although it appear somewhat heavy, it will not weigh hair down. Can add to conditioner to become a deep condition hair, use as a pre-poo treatment, and as a hot oil treatment.  
5) Camellia Seed Oil
Camellia oil has antioxidants, vitamins A, B, C, and E. Great for hair because it helps to seal in moisture and helps with premature graying of hair. You can also apply to skin to provide a nourished soft glowing skin.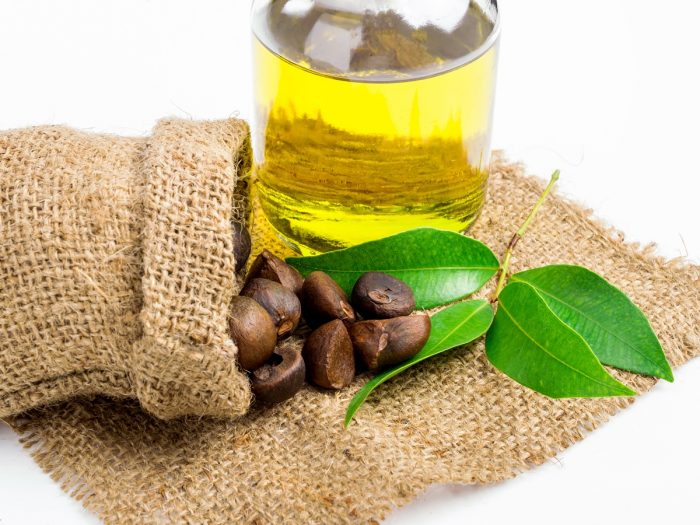 6) Sunflower oil
Sunflower oil improves the health of the scalp and hair, promotes growth, soften hair, adds shine, and eliminates frizz. The oil contains vitamins,such as A, B, E, oleic acid that helps to stop hair breakage and stimulate hair growth. The oil moisturize hair, reduce thinning, and does not weight hair down.
7) Sesame oil
Sesame oil is a popular oil used for hair growth, health of scalp. It has essential vitamins, such as E and B and minerals such as magnesium, calcium, phosphorus and protein that nourishes, restore, and strengthens hair. You can use in deep conditioner, it provides shine, moisturize hair, protects hair from sun's UV rays, treat dandruff, lice, and premature graying.
8) Marula oil
Marula oil has oleic acid content (omega-9 acid) and elevated in fatty acids. It has vitamins A, C and E and antioxidants. It absorbs easily into the skin and because of it having high levels of this monounsaturated fatty acid, it acts as a sealant.  It is a light oil and won't weigh hair down. It softens, adds shine, and moisturize the hair. The oil has antimicrobial and anti-inflammatory properties. It can eliminate bacteria that causes infections and flare-ups of the skin, such as people with psoriasis
Source
9) Jojoba oil
Jojoba oil another popular oil. It conditions and absorbs well into the hair and skin. It has vitamin A, D and E, and rich with antioxidants. The great benefit of this oil for hair is that it promotes growth, moisturize, softens, and adds shine. It helps to minimize split ends and breakage to dry hair. The oil has antimicrobial to get rid of bacteria that causes infections to keep scalp healthy and clean. It also regulates the amount of sebum produce, such as when hair's natural oil may not quickly coat the hair strand, leading to drying hair, that can lead to breakage and splint ends.
10) Emu oil
Emu oil comes from the Australian Emu bird. The oil is extracted from the fat part of the bird. The oil is used in some beauty products. The benefits of this oil is the it helps to promote hair growth, it nourishes the hair and scalp, it has anti-inflammatory properties, such as easing in the possibility of pain symptomatic skin conditions.  It moisturize and helps with hair breakage.
11) Castor oil
Castor oil is a thick oil. It has fatty acids, such as oleic and linoleic acids. It helps to moisturize the hair. Castor oil can be used alone or diluted with other oils. It nourishes the scalp and hair, promote growth and increase blood circulation, such as while massaging the scalp. It can act as a sealant to lock in moisture in the hair. 
12) Coconut oil
Coconut oil takes the lead to penetrate well into the hair strands. It has vitamins and minerals. It helps with dandruff, promote growth, adds shine, soften hair, moisturize, prevents hair breakage and splint ends. It nourish and conditions the hair. Can use a pre-poo treatment, hot oil treatment, and added to conditioner to become a deep conditioner. You can use on skin as well.
13) Sweet Almond oil
Sweet almond oil is a light oil. It has vitamins, such as A and E and antioxidants to promote blood circulation to the scalp. It definitely great for skin and hair. It has fatty acids so it absorbs well into skin and hair. It moisturize, add shine, and stimulate hair growth. Can use as a sealant to lock in moisture.
Natural Hair Care Products For Healthy Living
Natural hair care products that are free from SLS, Pegs and sulphates are in big demand. Hair care is going au natural, boasting of herbal ingredients and natural oils. Herbal shampoos and conditioners promise to keep hair healthy and do not strip away natural oils that protect them. Organic hair care is the new wave of hair product to enter the hair market. Although many would swear by the more commercial brands as being more effective, there are those who are happy to sacrifice foam for ferns! Natural hair care made with herbs and butters, essential oils and aromatic waters will not foam as more mainstream product would do. The natural detergents are much gentler on the hair and may not lather as well but rest assured they cleanse just as thoroughly and do not strip the hair of its natural oils which are the best part. Cold pressed and unrefined oils whether nut oils, seed oils, flower oils and more, seem also to be a huge demand for both hair and skin care. This is massaged three to four times a week into the scalp and left overnight or even for a few days to nourish and replenish the hair and scalp. Jojoba oil is wonderful oil for hair too, and is particularly popular for Afro hair, as is Shea butter. The Really Good Hair oil has been formulated with an effective blend of five nourishing oils. It contains the well-known Argan and Virgin Coconut oils known for their hair strengthening properties. This has been blended with the vitamin E rich Avocado oil and Sweet Almond oil to replenish and restore its shine and moisture. The most important herb in this blend is the Ayurvedic triple infused herb Brahmi and Neem. Brahmi is very rich in antioxidants and helps boost hair growth and hair discolouration. Brahmi is able to nourish the hair roots and promote healthier growth and Neem will promote a healthier scalp and is extremely beneficial for thinning hair. Fragrances like the gorgeous Indian Jasmine essential oil, the Really Good Hair oil is a superb combination of the very best oils are used to ensure your hair is left beautifully conditioned, healthier and stronger. The process of massaging the oil into the hair is also most important as this is where you can help stimulate hair growth and rejuvenate the hair follicles. Indian head massage is a treatment where the masseuse applies oils for you and is part of many spa menus these days. Whilst massaging hair oil, be sure to part your hair and distribute the oil equally to all parts of the scalp, from the back to the crown and to the temples. Another great tip is to wrap a steaming hot towel around the head; this opens the follicles and the oil seeps in deeply. Warm oil is also preferable to cold oil as this sinks into the skin much more easily and provides a very therapeutic sensation too.
Read more on Natural Hair Care Products For Healthy Living
What is your favorite hair oil you use? Comment below.
Like This Post? Share and Pin!